We are 300 days down and only 2700 days to go on our 3000 day journey to financial independence. This marks the first 10% of this adventure over, and we must say it has been a positive experience. We urge you all to take the 3000 day challenge...start today!
Today, we wanted to provide a September 2018 quarter progress report.....
We continue to see huge benefits in undertaking this journey, however this quarter our savings rate was not so crash hot. We released the purse strings a little bit and booked a modest holiday that we went on in October and we also booked a few mini-breaks for later in the year/early next year. We paid for these in advance, so our savings took a decent beating in this quarter.
To be honest a holiday for us was long overdue, it had been 16 months since we had taken a trip away. We needed a mental break from work, from the day to day and to be honest we needed a rest from our 3000 day financial independence journey (even though we stayed true to our FI mentality). Besides, everyone needs a break from time to time and also something to look forward to in life....right?
So what do holidays look like for us? Here are our top 6 tips for getting the best bang for your buck when planning and booking a holiday:
Save up for the trip in advance and pay in full (in cash) prior to departure - there is nothing worse than coming back from a beautiful relaxing holiday and having a monster credit card bill or personal loan repayment to tackle.
Book self contained accommodation where possible - having your own kitchen is a massive cost saver. Even if you cook some of your meals at home, you will spend considerably less than if you eat out every meal.
Book accommodation in blocks of 7 days or 3 day weekends. A lot of places offer big discounts for weekly or long weekend tariffs rather than booking on a nightly rate.
Shop around for the best deal. We mainly use Airbnb or Stayz for self contained accommodation. These two sites can often have the same home advertised however at vastly different rates, so compare the two.
Take your staples with you if possible - pepper, salt, oil, spreads and sauces. These items add up and do you really need to buy new ones and most likely waste them when you leave. So take your own.
Travel outside of school holidays or peak times if possible. The destinations are quieter and a whole lot cheaper.
Our holiday was 10 nights away on the North Coast of NSW, we drove our own car so we didn't have to hire a car, we stayed in beautiful modern accommodation right near the beach (however we found great deals), we mainly ate our meals at home and purchased groceries as we normal would have.
Total cost $1,600 for a family of 3. Not bad...at least in our eyes that is a frugal win!
So here is our September 2018 quarterly summary:
Savings rate:
You may remember back in the March 2018 quarter, we came out of the blocks fast with a savings rate of 40.25%. This was a massive jump on our previous rate of ZERO….yep 0%. In the June 2018 quarter we saw a slight increase to a 41.58% savings rate.
In the September 2018 quarter we only managed to get to a 24.00% savings rate.
We do have a 50% savings rate goal, and we hope to get closer to that target in the December 2018 quarter...fingers crossed.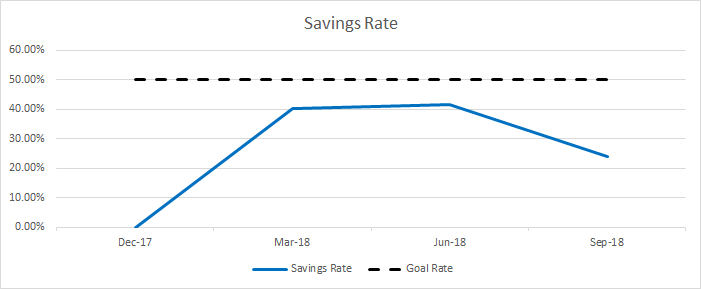 Here's how we did it – our income/expense wins:
Income:
Mostly the same. However Mrs3000 and our son fell ill during the quarter and therefore Mrs3000 had to take some sick days without pay as she had run out of entitlements.
Expenses:
Discretionary spending: Mrs3000 and I continued to be mindful of our discretionary spending. There were no unnecessary purchases in the quarter.
Grocery bill: We have continued to find savings where possible and we always try and buy the Woolworths eGift cards through Cash Rewards to get our 5% off.
Drinking: Mrs 3000 and I continued on with our no drinking lifestyle. You can read more about how this one change alone will make us $500k+ richer here.
In summary, we were lucky enough to sneak in a 24% savings rate this quarter. With the holidays paid for, we can now focus on saving hard in the lead up to Christmas as we all know this can be an expensive time of year.
We continue to have the goal of a 50% savings rate each quarter.......we haven't been able to achieve this yet, however time will tell, so stay tuned.
Take care and best wishes all,
Cheers, Jason (Mr 3000)
Thank you to our readers, our blog has been featured at #8 in Top 10 Australian Retirement blog list.
Also, if you like to save money and you also like our content, here are a few easy ways you can help us keep it up, all are completely free:
1. Do you like free money? Get Cash Back on your purchases including groceries. This is completely free and if you use this link, both of us get a $10 bonus instantly. So visit Cash Rewards today and start getting free money!!
2. Do you want to start a website, side hustle or blog? Grab a domain name through Crazy Domains
3. If you do start a website and are looking at website builders, try out Site 123 it was super easy and requires no tech experience. You could easily start an online business or blog within 2 hours.
View our next post:
https://www.3000days.com.au/blog/our-top-10-christmas-savings-tips