We are 406 days down and only 2594 days to go on our 3000 day journey to financial independence. We have passed the 1 year mark and we are excited for 2019 and the adventures it will bring. We urge you all to take the 3000 day challenge... so start today!
2018 seems like a distant memory already, however we wanted to provide a 2018 review even if it is a little late. This article will review how we are tracking financially, our savings results, our investments gains, our giving, our achievements, our setbacks and our goals for 2019.
Savings rate:
You may remember back in the in the September 2018 quarter we only managed to achieve a 24.00% savings rate. This was mainly due to booking and paying for a holiday and a mini break.
In the December 2018 quarter we managed to achieve a savings rate of 40.4%. Although we are still well below our target of a 50% savings rate, we are still happy with our progress in just one year. Here is how we are tracking: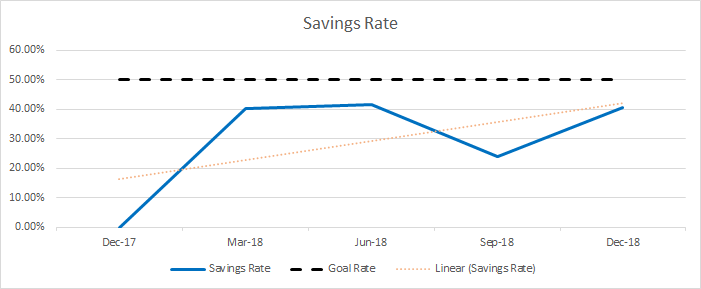 As you can see we are running short of our savings rate goal, however at least the trend line is pointing in the right direction (albeit from our 0% base savings rate in 2017).
Savings Achievements/Review:
In 2018 we managed to save over $30,000.00. To say we are proud of this, is a massive understatement. We are absolutely over the moon with this result. We previously had a mindset geared towards reckless spending and this resulted in us saving absolutely nothing in 2017. This mindset has shifted towards mindful spending and a few savvy savings tactics . This shift has made a huge impact in our lives and the results speak for themselves.
Investments Review:
2018 was a volatile year in the stock markets. As you may have read, we think the stock market will keep moving further to the downside. Our investments are positioned to benefit from this expected downturn. You can read more about our views here.
Our investments performed well in 2018. We were up 16% as at 31 December 2018. However early 2019 has seen a stock market bounce so we have given back most of these gains.
We expect 2019 to be even more volatile than 2018. So we will see what the year brings.
Giving & Charity:
During the year, we made the tough decision of redirecting our charitable contributions from World Vision. We have been supporting them for over 12 years. We made this decision mainly due to the fact we were constantly bombarded with junk mail, brochures, offers and generic marketing material. We felt those funds were being partly wasted on all of this.
Therefore we took the barefoot investor approach and started making Kiva Loans. We set aside some money and deposited the funds and started making loans. Kiva is an international nonprofit, with a mission to expand financial access to help under served communities thrive.
We make our Kiva loans as a family. We sit down with our son and we all choose who to loan funds to. It is actually a nice process and one our son benefits from immensely.
Our Achievements:
In addition to our savings achievements, we also had some personal ones as well.
Mrs 3000 completed some further education in alternative healing techniques and methodology. She can hopefully utilise these new skills in a business venture in the near future.
Mr 3000 received a promotion and pay increase at work. He has a few tips on how you can get a promotion, which he will share in an upcoming post.
Mini 3000 (our son) started big school this year.
Our Setbacks:
Our house hack has fallen through. As we have mentioned previously, we had big plans to build a dual occupancy home which you can read about here. Unfortunately due to an unforeseen council ruling, we will be unable to achieve this goal. We are yet to calculate the financial impact this will have on our 3000 day journey and our savings plans, we are just trying to sort through the mess at this stage. However we will keep you posted.
However, we chose to not let this setback get us down. Instead we turned a negative into a positive. We used this setback as an opportunity to GET OUR FREEDOM BACK!!!. The plan for the dual occupancy was for us to live in one side and my in-laws to live in the other side. However given the change in plans, we felt it was time we broke free (in the nicest possible way) and live independently.
The in-laws are now set up in their own villa and we live 5 mins drive away in a townhouse.
We must say, it feels good to be free again!
Goals for 2019:
Get that damn savings rate up to 50%.
Post more regularly on this blog
Perform some volunteering work on a regular basis
Enjoy life whilst maintaining the mindful spending mentality
We hope your 2019 is filled with happiness, joy, love and savings!! We hope you continue to follow us on our 3000 day journey to financial independence and that you also start on your own journey to financial independence.
Take care and best wishes all,
Cheers, Jason (Mr 3000)
Thank you to our readers, our blog has been featured at #8 in Top 10 Australian Retirement blog list.
Also, if you like to save money and you also like our content, here are a few easy ways you can help us keep it up, all are completely free:
1. Do you like free money? Get Cash Back on your purchases including groceries. This is completely free and if you use this link, both of us get a $5 bonus instantly. So visit Cash Rewards today and start getting free money!!
2. Do you want to start a website, side hustle or blog? Grab a domain name through Crazy Domains
3. If you do start a website and are looking at website builders, try out Site 123 it was super easy and requires no tech experience. You could easily start an online business or blog within 2 hours.